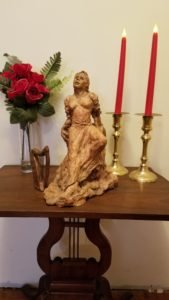 When it comes to art that involves paint, pen & ink, chalk, or clay, I have no ability at all. I often tell people I need a ruler to draw a stick figure.
My lack of ability does not diminish my appreciation and love for the art. When I was a teenager, I read "The Agony and The Ecstasy," and fell in love with Michelangelo's artwork. When my hubby and I went to Italy, our first tour was to see "The David" and our last tour was the Vatican and the Sistine Chapel. Although I saw many sculptures and artwork from other artists during our trip, Michelangelo remains my favorite ancient sculpture.

My favorite modern artist is Tracy H. Sugg. I say 'modern' only because she is living. I believe her artwork could be placed in a Renaissance setting.
If you go to her website, http://www.tracyhsugg.com/ , you'll see her Artist Statement:  
"It is my Desire that my sculpture reflects a Touch of the Infinite,
By continually seeking to learn:
the inherent beauty of Creation
the value and mystery of Life
the noble epiphany of Truth
I strive to create an enduring tribute to humanity's highest ideals and aspirations
Thus conveying the eternal message of Hope, Truth and Beauty through the ever-expressive language of Sculpture."

If you scroll through her gallery, you will see the results of years of study, work, and dedication.
I am honored to have several pieces of Tracy's artwork in my home, including a sculpture portrait of me and my harp. My hubby fulfilled a life-long dream and gave me a harp for our 26th wedding anniversary. On our 27th anniversary, he commissioned Tracy to sculpt a statue of me and my harp. She knew I had a Renaissance dress and sculpted me in the dress and my harp from memory, even down to the decoration on my harp and correct number of strings. This beautiful piece of art has a place of honor in our home.