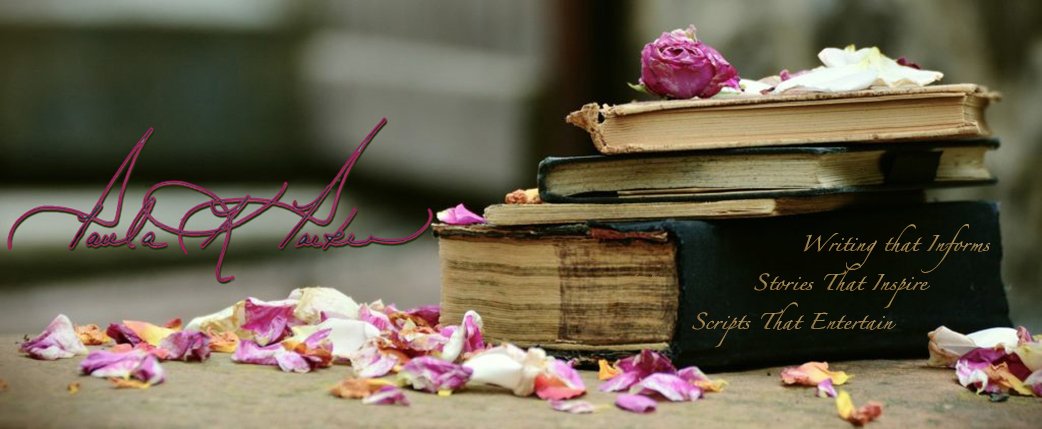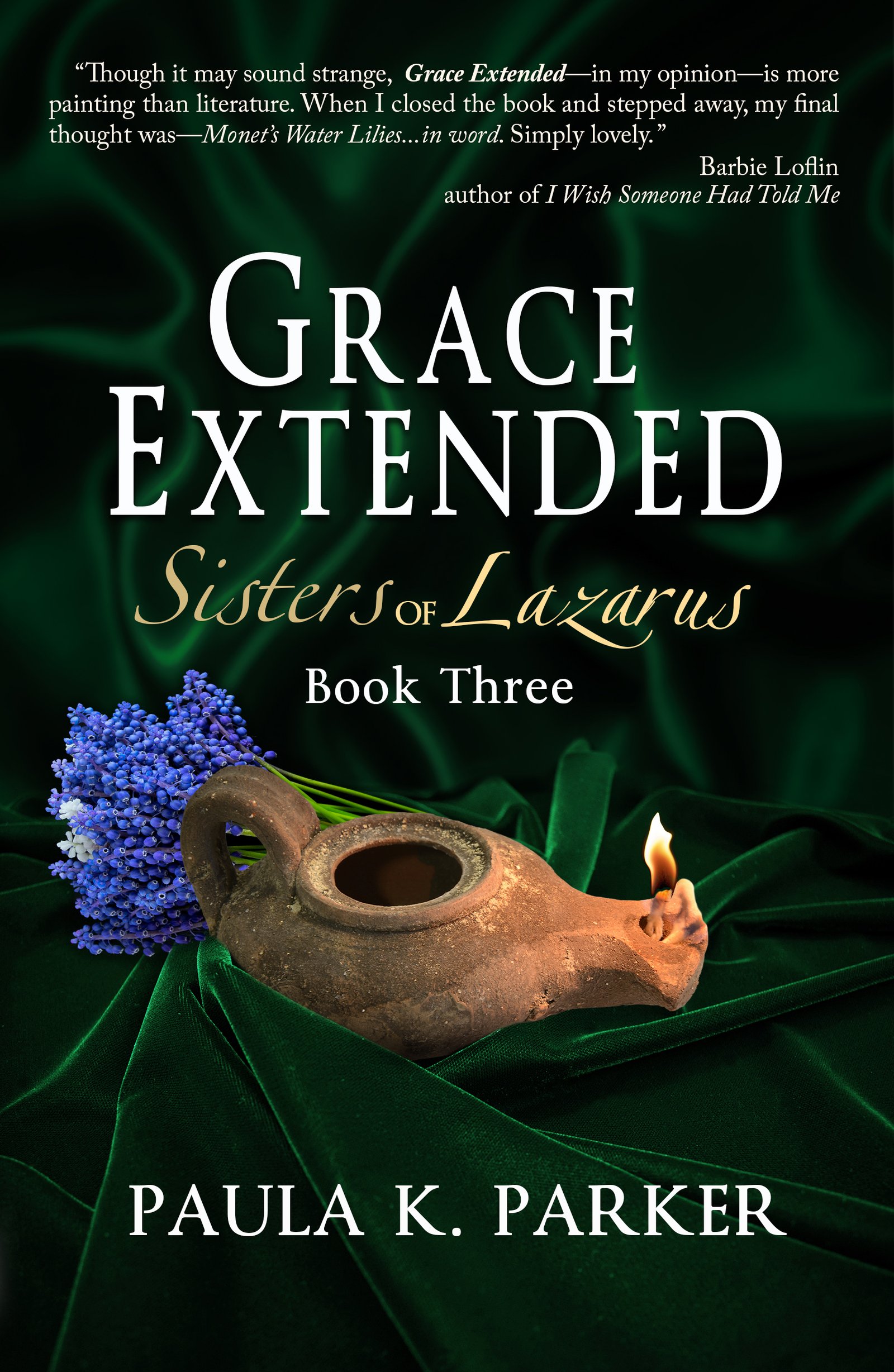 By Paula K. Parker
Grace Extended
Sisters of Lazarus, Book Three
BEAUTY UNVEILED, the first book of the Sisters of Lazarus series, introduces Martha and Mary –  the two sisters of Lazarus – who couldn't have been more different. Martha, the elder, is plain and self-conscious; Mary, the younger, is beautiful and vain. One saw her value only in serving, while the other believed her outward appearance was her only asset. Their worlds were turned upside down when Lazarus offered hospitality to an intriguing new teacher named Jesus.
GLORY REVEALED: Sisters of Lazarus, Book Two picks up immediately where Beauty Unveiled ended, and carries the story forward through Christ's crucifixion, resurrection, and ascension, as seen through the eyes of those who witnessed firsthand the greatest story ever told.
Now, experience the conclusion of the Sisters of Lazarus saga, in GRACE EXTENDED.
Jesus Christ has risen from the dead. After walking with His disciples for 40 days, He left them with one final admonition: "Do not leave Jerusalem, but wait for the gift My Father promised, which you have heard Me speak about. For John baptized with water, but in a few days you will be baptized with the Holy Spirit. You will receive power when the Holy Spirit comes on you; and you will be My witnesses in Jerusalem, and in all Judea and Samaria, and to the ends of the earth."
Honoring the words of the Lord Jesus, Lazarus and his sisters, Mary and Martha – along with more than 120 followers of The Way – gather in the upper room to pray, and await the promise. Little do they realize their tiny sect of the Jewish faith is about to shake the gates of Hell and threaten the power structure of the mightiest empire the world had ever known.
Paula K. Parker's evocative writing draws readers in, allowing them to feel like a fellow guest sharing the sisters' wonder at meeting Jesus and his transforming power.
"A riveting story of love, longing and faith. Paula combines masterful storytelling with well-crafted dialogue. The result is a cast of biblical characters fresh, human and real. Through the eyes of Lazarus, Mary and Martha, the reader eagerly connects with three siblings from a normal, dysfunctional family."
Bonnie Keen
Author, Actress, Recording Artist
The Sisters of Lazarus Saga
Classic and contemporary art set to the music of AudioMachine tells the story of Christ.
Equinox by AudioMachine
Officially Licensed Music
Internationally Acclaimed Author
Paula K. Parker
  Paula K. Parker is an internationally recognized playwright, author and freelance writer. Her work has appeared in such national publications as  Focus on the Family's Citizen, Christian Single, Christian Health, Clarity, Release Ink, and HomeLife magazines. Since 2013, she has written curriculum for the WinShape Camp for Girls.
An accomplished playwright, Paula is best known for her sparkling stage adaptation of Jane Austen's Pride & Prejudice, Jane Austen's Sense & Sensibility, and Jane Austen's EMMA.
Paula co-authored two novels, YHWH: The Flood, the Fish & the Giant, and YESHUA: The King, The Demon & The Traitor with New York Times Best-Selling author, GP Taylor. She co-wrote Shameless Self-Promotion with Mike Parker and Torry Martin. Her devotional book, Illuminations showcases the work of international artist Tracy H. Sugg.
Her biblical novel, SISTERS OF LAZARUS; Beauty Unveiled, reached Amazon's Top Ten Best-seller's list for biblical fiction. The sequel GLORY REVEALED: Sisters of Lazarus, Book Two, reached Amazon's Top Ten Hot New Releases list for biblical fiction. The final book in the series, GRACE EXTENDED: Sisters of Lazarus, Book Three, reached Amazon's Top Ten Hot New Releases list for biblical fiction, and Amazon's Top One Hundred List for Hot New Releases for Ancient History Fiction.
When she is not writing, Paula whiles away the hours with her writer/actor husband Mike, visiting with their five grown children, loving on their eight grandchildren, playing in their gardens, restoring their vintage home, cooking, baking (especially anything chocolatey) and playing the harp.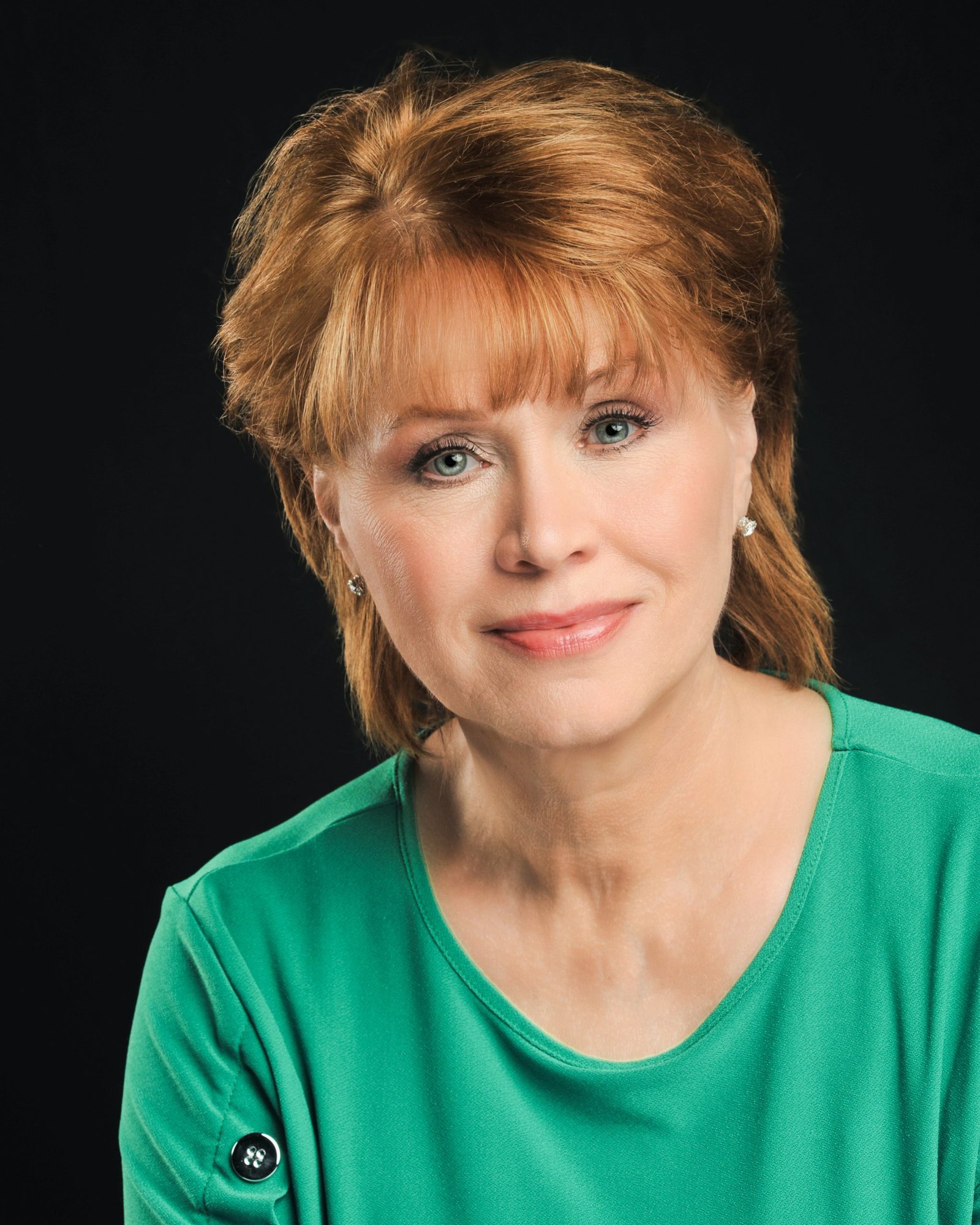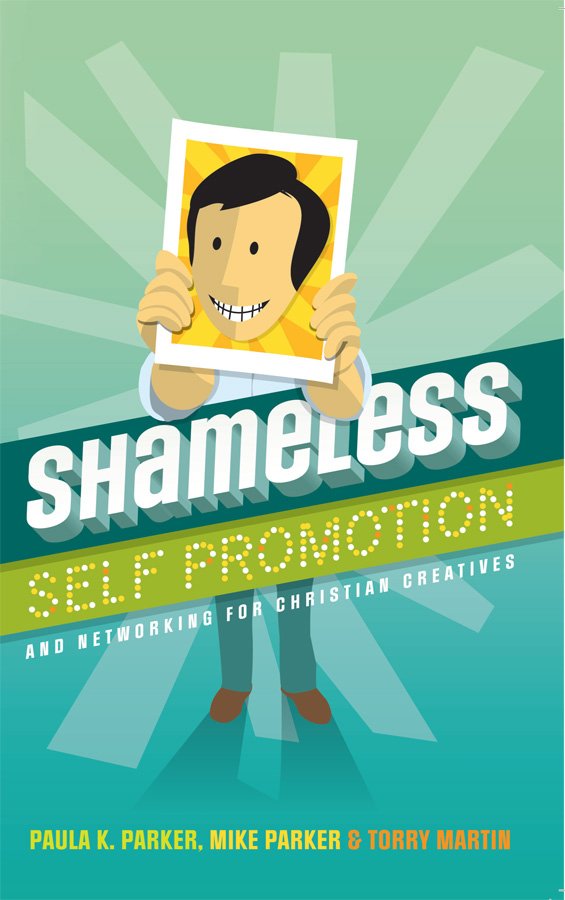 Shameless Self Promotion
and Networking for Christian Creatives
Signed or indie; beginner or seasoned pro; whether you are an artist, author, actor, promoter, or even a church hosting an event – you have something, or someone, that needs to be promoted. That someone might even by you!
You CAN build your business and develop your career…without selling your soul!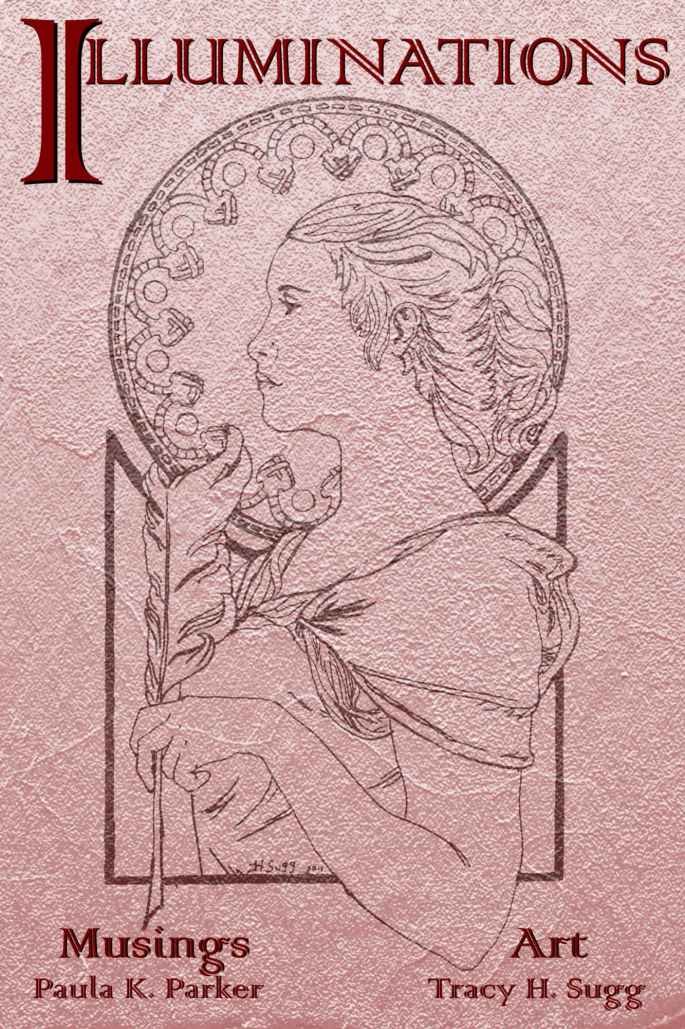 Illuminations
Musings & Art
Illumination, in art, refers to the decoration of ancient sacred manuscripts and books with colored, gilded pictures. The illuminations in these ancient parchments often appeared as involved miniatures, decorative initials or ornamental border designs. They were intended to add beauty and reverence to the Holy text.
The illuminations in this book are also designed to add beauty and awe to your devotional time as your draw closer to God.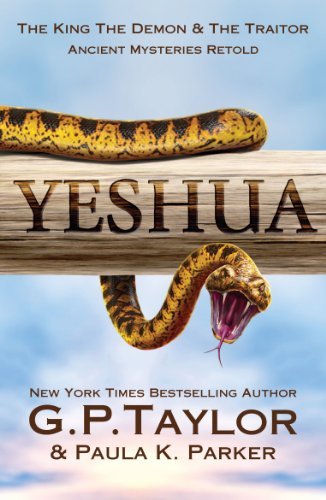 Yeshua
The King, The Demon & The Traitor
From the depths of time come stories that have been told and retold for thousands of years. Twenty-nine exciting stories come together to speak of the life of Jesus and his followers.
Told in a fresh and exciting way, this book will open your eyes to the pioneers of the new religion called 'The Way' and the force that subsequently changed the history of mankind.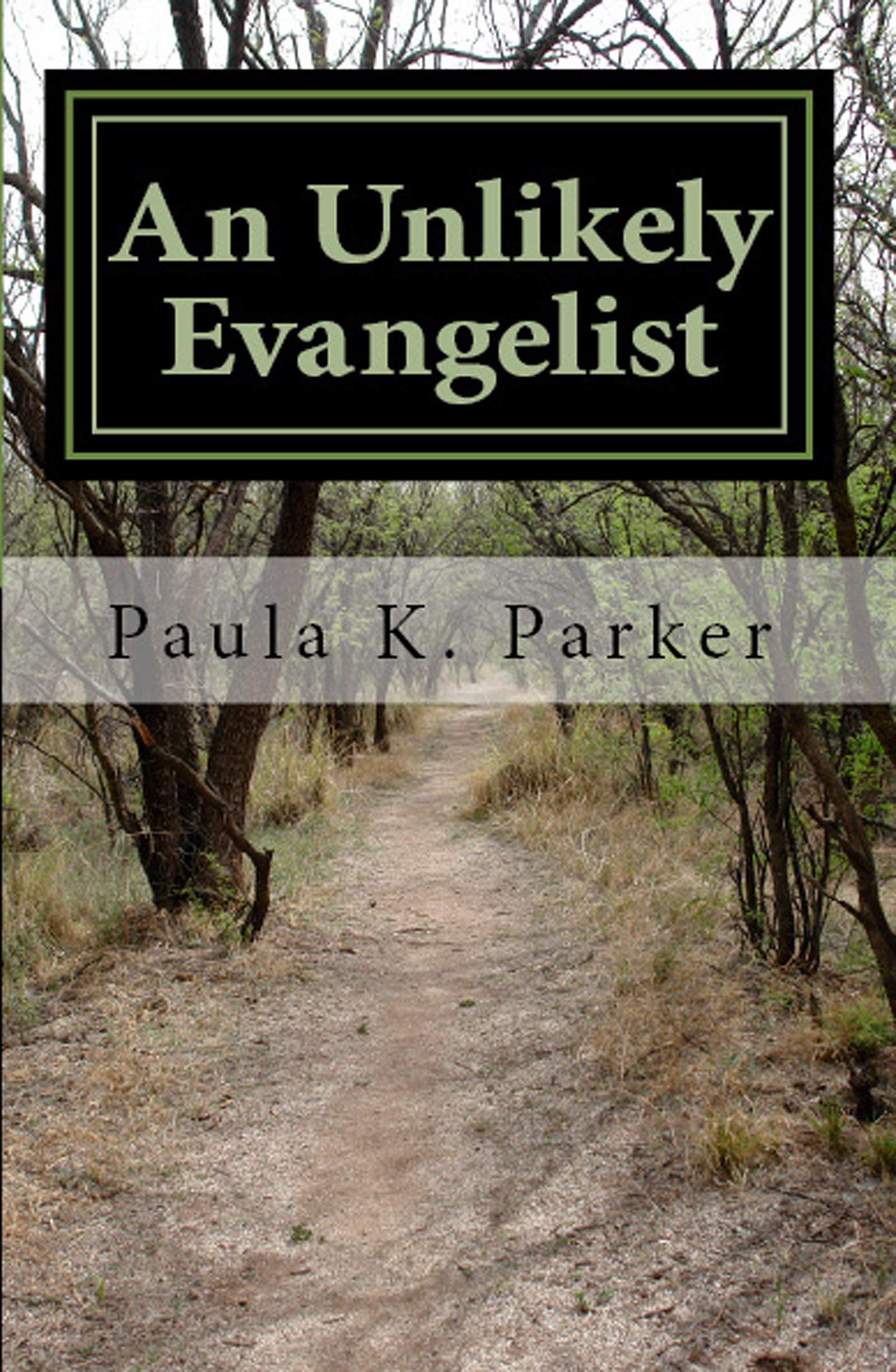 An Unlikely Evangelist
At 5:10 p.m. on Friday, March 1, Paula K. Parker learned that her father had passed away. He had died, as he had lived, all alone in the bar he managed.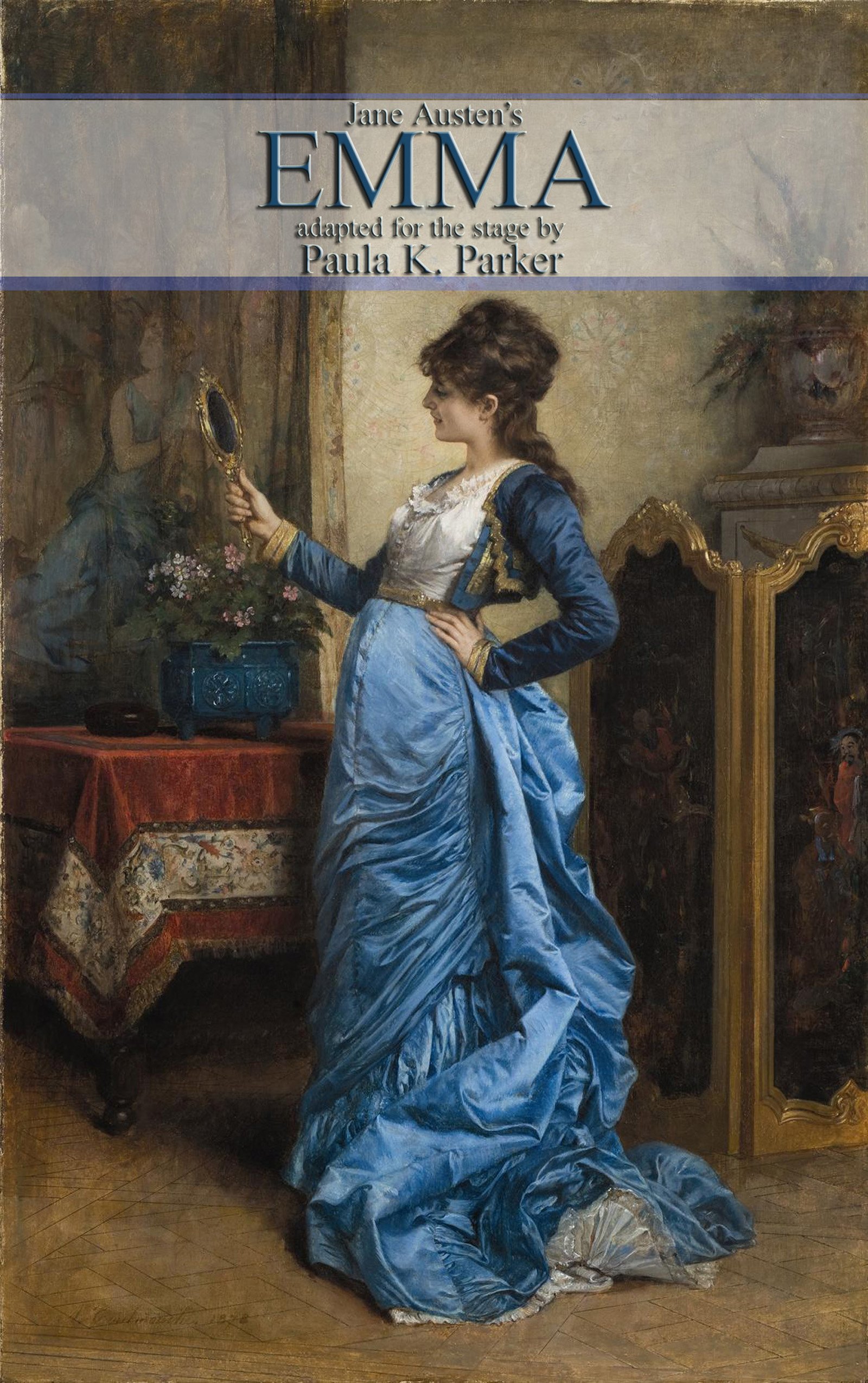 Jane Austen's
EMMA
Jane Austen's feisty, provocative and enchanting heroine, Emma Woodhouse, comes to life on the stage in Paula K. Parker's sparkling new adaptation of EMMA.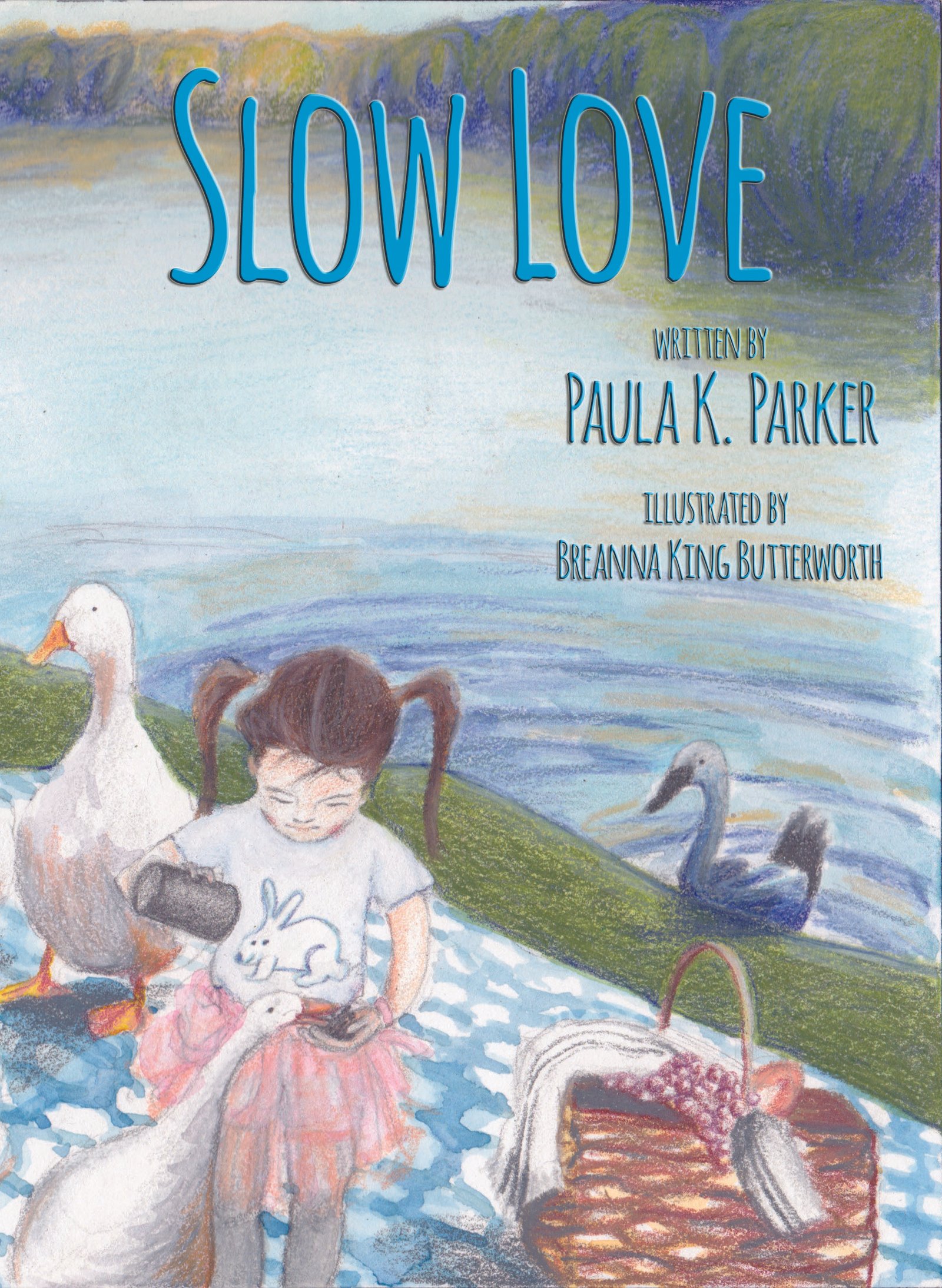 Slow Love
Saturday night is always a special time for Mary.
That's when Grandpa tells stories!
"Sisters of Lazarus is a fun and meaningful read, offering the best of what biblical fiction provides – a tale built around beloved scriptural figures. But Paula Parker goes deeper than just creating an entertaining story featuring Mary and Martha, she explores the eternal question of what it means to be truly beautiful." 
–
Roma Downey
executive producer of The Bible miniseries & star of TV's beloved Touched by an Angel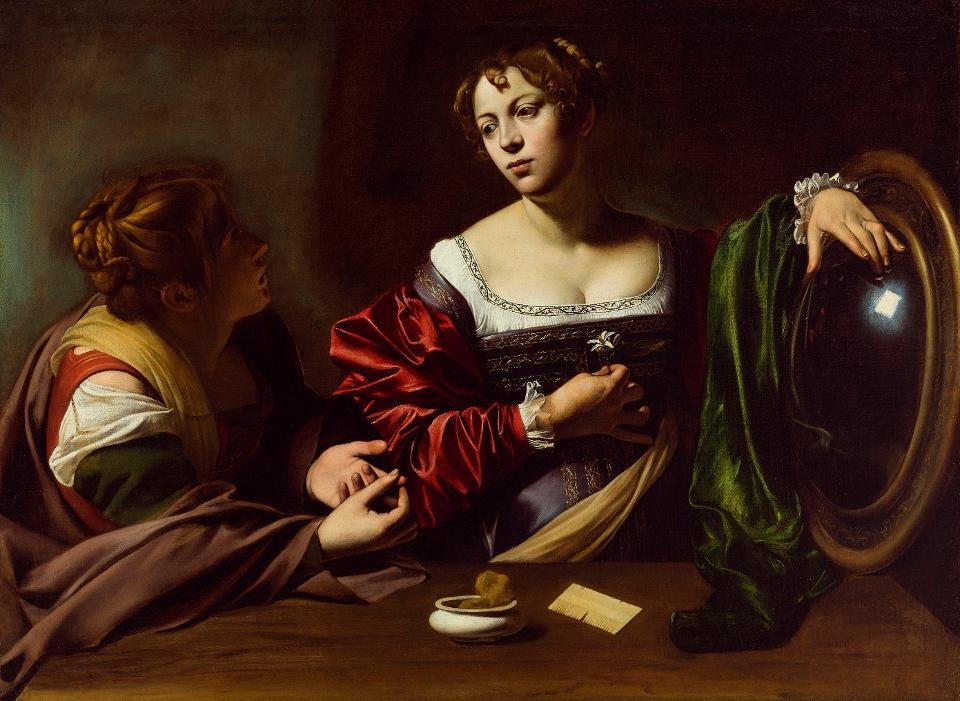 No events currently scheduled
My Writing Blog
Follow Along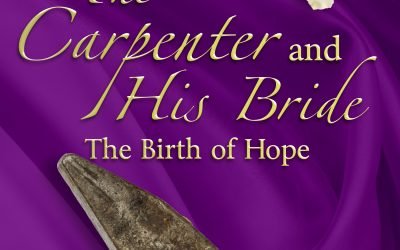 Internationally acclaimed playwright and Top 10 Amazon.com bestselling novelist Paula K. Parker is celebrating her newest Amazon bestseller, The Carpenter and His Bride, which released September 29, 2022, from WordCrafts Press. Parker's highly anticipated novel, which...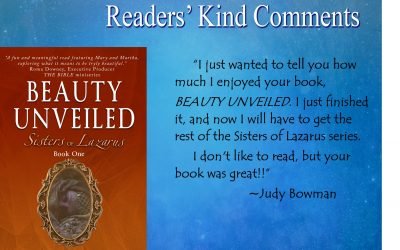 It always brings a smile to my heart to get readers' comments like the one from Judy Bowman.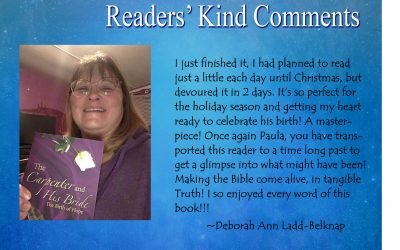 I posted about reading "THE CARPENTER AND HIS BRIDE" as part of my Christmas tradition and asked people what they were reading. Deborah Ann Ladd-Belknap's reply to my post humbled me.
Production rights for all of Paula's stage plays are controlled and administered by WordCrafts Theatrical Press.
Email: wordcrafts@wordcrafts.net