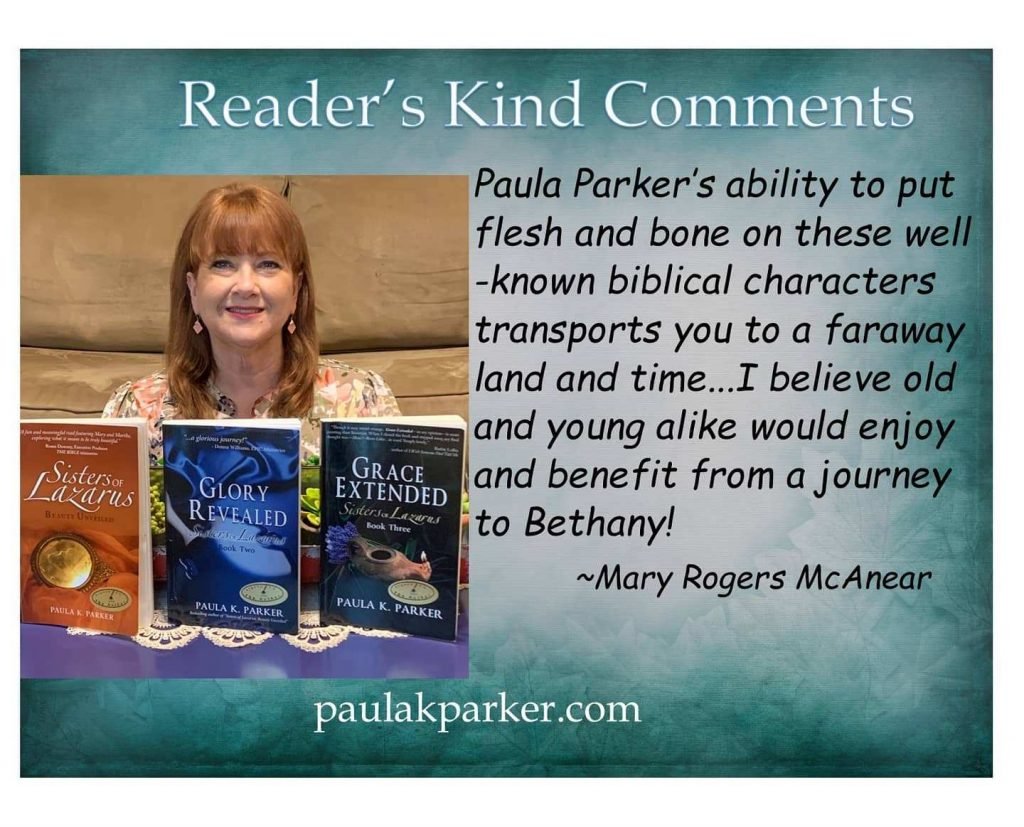 I was surprised when my life-friend Mary McAnear ordered my SISTERS OF LAZARUS series, as I knew she preferred crime drama. I thought she had ordered the books as a gift for someone else, but she assured me they were for her.
Knowing she likes "murder and mayhem," I wondered what she would think of my biblical novels. Her comments on Facebook surprised and humbled me. After a warning for the length of her comment, she wrote a humbling review.
These three books were written by my dear friend Paula Parker. She is an internationally acclaimed author/playwright, yet to me she will always be my life buddy. We spent so many hours laughing, talking, eating good food, being pregnant, and learning to mother our little ones. Maybe that is why it has taken me so long to actually read her books. She is a real person with a real life, and it is hard to see her in another role other than the one I know so well. Please forgive me Paula for taking so long to buy and read these amazing books! If you know me well, you know the fiction genre I love best involves spies, international intrigue, and mayhem.; you know, a good "who dunnit." Therefore, when I received Paula's books, I put them on the shelf and looked at them thinking what pretty covers were created for these publications. I am a believer in God's timing, and around the time the quarantine was getting really old I felt God nudging me to pick up the first book. WOW!!! Paula's ability to put flesh and bone on these well-known Biblical characters transports you to a faraway land and time. You start to feel you have made friends with Mary, Martha, and Lazarus and eventually become one of the family. You journey with them through highs and lows as they learn to love Jesus not only as their friend, but as Savior and King of Kings. Each Biblical character Paula introduces throughout her text comes alive and you see their humanity with its strength and frailties. Paula had to have spent many hours of research as the Jewish customs, language, and phraseology gives the reader an in depth look into Jewish culture during Bible times. The writing is intricate enough for any intellectual, but simply presented for an enjoyable and poignant read. It will make you think about your own faith in a refreshing and renewed fashion. I believe old and young alike would enjoy and benefit from a journey to Bethany!